Mutual Recognition of Professional Qualifications: the Commission's Initiative towards Mutual Recognition Agreements
Posted on
19 December, 2016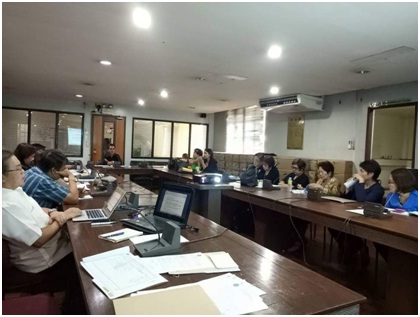 Manila, December 19, 2016 - The Professional Regulation Commission and the Professional Regulatory Board (PRBs) continuously collaborate with its counterpart Professional Qualifications Agency (PQA) in other ASEAN countries in hopes of forging a Memorandum of Agreement and working relationship mutual recognition of professional qualifications.
Collaboration includes the exchange of information on the professional practices, particularly in the description of core competencies and benchmarking of professional competencies, standards and qualifications from which similarities and differences will be established for the purpose of bridging identified gaps.
Since the establishment of the ASEAN Economic Community (AEC) in 2015 in which one of its primary goals is to offer equal opportunities for economic growth and development in the ASEAN member states (AMS) became the third largest economy in Asia and seventh largest in the world.
The creation of AEC Blueprint 2025, adopted by the ASEAN leaders at the 27th ASEAN Summit last November 22, 2015 held at Kuala Lumpur, Malaysia serves as a guide with its principles of its state members from the year plan starting 2016 up to 2025. It provides a broad direction for strategic measures to achieve its five core visions of (i) A Highly Integrated and Cohesive Economy; (ii) A Competitive, Innovative, and Dynamic ASEAN; (iii) Enhanced Connectivity and Sectoral Cooperation; (iv) A Resilient, Inclusive, People-Oriented, and People-Centred ASEAN; and (v) A Global ASEAN. Partnership arrangements with the private sector, industry associations and the wider community at the regional and national levels will also be actively sought and fostered to ensure an inclusive and participatory approach to the integration process. Institutions will be strengthened and enhanced approaches to monitoring and public outreach will likewise be developed to support the effective implementation of the Blueprint.
Complementary to the ASEAN MRAs; the Mutual Recognition of Professional Qualifications (MRPQ) is a Commission's initiative to achieve collaborative arrangements for the mutual recognitions of credentials and qualifications by, first, careful research particularly in the perceived gaps in professional competencies and credentialing system in other ASEAN member countries that are usual destination of Filipino Professionals. Second is the determination of areas of specific alignments of different professions. Third is actual visit to the identified foreign jurisdictions are being done to conduct meetings with their counterparts which includes consolidation and validation of research outputs, as well as alignments and non – alignments of quality frameworks, finally leading to a signed instrument or document of mutual recognition of both local and international professionals.
The International Affairs Division (IAD) of PRC convokes a monthly consultative and coordination meeting with the concerned PRBs to updates toward the establishment of MRPQ with their counterparts, to monitor progress and render needed technical and administrative assistance.