PRC RO2 Launches Santiago City Offsite Delivery Center
Posted on
22 December, 2017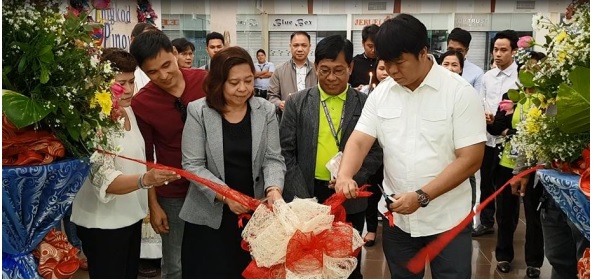 Santiago City, Isabela – The holidays may have just become merrier for Professionals and PRC Examination Applicants in the Province of Isabela and nearby areas as PRC RO2 officially launched its Offsite Delivery Center at Robinsons Place, Santiago City last Dec. 12, 2017.
Led by PRC RO2 Regional Director Rodrigo F. Balaqui, Jr., the Offsite Delivery Center was established with the aim of expanding the reach of PRC service delivery in the province of Isabela including the nearby provinces of Nueva Vizcaya, Quirino, Ifugao, Mt. Province, and the Sub-province of Aurora. Considering the growing number of Professionals in the country and the steady increase of transactions in PRC, establishing the Center was meant to "help our stakeholders from these provinces" by addressing "…the challenge of bringing [PRC] services closer to the public."
In PRC Commission Chair Teofilo S. Pilando, Jr's. message, delivered by Director for Planning, Management, and Finance Services Ms. Jane R. Seveses, he shared, "…we embrace the shared vision of providing quality services to our clients. It is in this regard that I express my hope that this Service Center opens up a new space for commitment and dedication to meet the increasing demands and expectations of our most valued client – the Filipino people."
At present, nine PRC Service Centers are located across the country: three in Luzon located at Robinsons Galleria, and Robinsons Place Manila, as well as the new Center at Robinsons Place Santiago City; four in Visayas located at Bacolod, Cebu, Dumaguete, and Iloilo; and two in Mindanao located at Butuan and General Santos City.
Professionals can expect more Service Centers to open soon as PRC plans to establish a foothold further up North. Chairman Pilando adds, "Before the year ends, we are expecting to open another one in the Province of Ilocos Norte to solidify our presence in the North and to further extend our services to the public." According to the Chairman, PRC Services may likewise be expected to open soon in Cavite, Laguna, and Palawan.
Officials, representatives, accredited professional organizations and guests from the public and private sectors attended the event including City Councilors Gino A. Siquian, and Benzi Chai, Robinsons Mall Operations Manager Ms. Margarita A. Buminaang, Chief of Hospital, Southern Isabela General Hospital Dr. Jose Ildefonso B. Costales, Jr. and Ms. Gina R. Galo, among others.
Robinsons Place PRC Offsite Service Delivery Center is located at 3F Robinsons Mall, National Road, Santiago City, Isabela and is open from 10:00 AM to 06:00 PM, Mondays to Fridays.
The Center offers the following services: Application for Licensure Examination; Initial Registration; Renewal of Professional Identification Cards (PIC); Authentication of Certification of Registration (COR) and/or PIC; Verification of Board Rating; and Continuing Professional Development (CPD) related transactions.