PRC now ISO - Certified
Posted on
25 November, 2016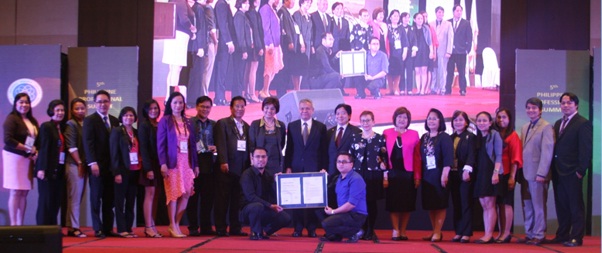 Manila, November 25, 2016 - The Professional Regulation Commission (PRC) was formally awarded the International Organization for Standardization (ISO) 9001:2008 certification from the President and Managing Director of the Certification International Philippines (CIP) Inc., Mr. Renato V. Navarette. PRC Chairman Teofilo S. Pilando, Jr., Commissioners Angeline T. Chua Chiaco and Yolanda D. Reyes received the ISO Certificate. The awarding took place during the recently concluded 5th Philippine Professional Summit held at the Fiesta Pavillion, Manila Hotel on October 27, 2016.
The Professional Regulation Commission initially obtained the ISO 9002 Certification for the management support system in the licensing and certification of marine deck and marine engineer officers in accordance with the national requirements and the applicable provisions of the 1978 Standards of Training Certification and Watch keeping Convention, and the STCW Code on September 3, 1999. With this, the Commission earned the distinction of being the first national government agency ever to be granted the ISO stamp of approval.
In compliance with Executive Order No. 605 series of 2007 entitled "Institutionalizing the Structure, Mechanism and Standards to Implement the Government Quality Management Program" The Commission, pursued for the establishment of a Quality Management System (QMS) based on ISO 9001: 2008 requirements.
To ensure the establishment and implementation of a quality management system, processes and procedures were reviewed, revised and streamlined to enhance customer satisfaction. Trainings with the participation and cooperation of PRBs, PRC Officials meetings and consultations were conducted to complete the Quality Manual and other documentation requirements.
Quality objectives and key performance indicators were set and monitored at different levels of the organization. Management reviews were held to ensure continuing stability, adequacy and effectiveness of the management system. Internal audits were conducted for continual improvement and the Commission had its Stage 1 or document review audit by Certification International Philippines (CIP) on December 22, 2015.
CIP conducted the Stage 2 or site visit assessment on June 1 to 3, 2016 to check if PRC is successful in establishing, documenting, implementing and maintaining its quality management system and continually improving its effectiveness. Appropriate corrective action were undertaken and trainings were conducted by the QMS Committee to eliminate of non-conformities and prevent reoccurrence.
On August 22, 2016, Certification International Philippines issued to the Professional Regulation Commission a certification that it operates a Quality Management System for the licensing of Professionals and Regulating the Professions in conformance to the requirements of ISO 9001: 2008 standards.
The members of the ISO – QMS Program Management Committee were as follows:
ISO – QMS Program Management Committee