PRC Chair Manzala discusses implications of ASEAN 2015 integration at the FEU - CDAP capability enhancement learning session
Posted on
24 February, 2014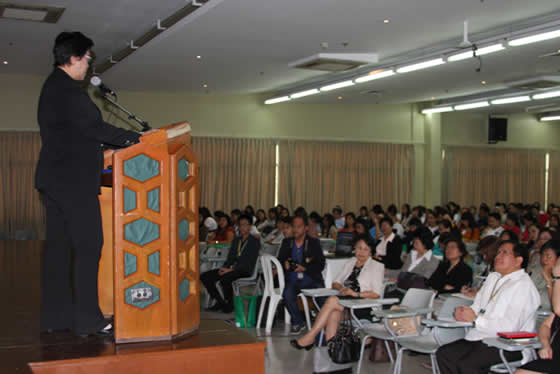 Manila, February 2014 – Fresh from a series of meetings with Filipino professionals and skilled workers, and the National Qualifications Authority in Abu Dhabi, United Arab Emirates, PRC Chair Teresita R. Manzala met with members of the Career Development Association of the Philippines, FEU Faculty and Students in a capability enhancement learning session on "the implications of 2015 ASEAN Integration on Student Career Development and Education" at the FEU Technology Building on Wednesday, January 22.
According to Chair Manzala, the ten ASEAN Member States have established their national qualifications frameworks and qualifications systems, utilizing different domains and qualification levels, with corresponding descriptors. These cover basic education, technical and vocational training, and higher education. The ASEAN Qualification Reference Framework will function as a device to enable comparisons of qualifications and providing the concept of "best fit" between qualifications from different countries. The AQRF is aimed at providing support and enhancement of the national qualifications frameworks. It addresses education and training sectors and the wider objective of promoting lifelong learning." The ASEAN Member States have agreed on 2018 as the target for the referencing of their national qualifications frameworks with the ASEAN Qualifications Reference Framework.
"By enabling comparisons of qualifications across member countries that will support recognition of qualifications and encouraging the development of national approaches to validating learning gained outside formal education, the AQRF aims to promote and encourage education/learner and worker mobility, and higher quality qualifications systems", Chair Manzala added.
The AQRF provides opportunities to open up large market for goods, skilled labor and professionals. Likewise, improvement in the regulatory framework and the implementation of quality assurance in the recognition of qualifications of learners, skilled workers and professionals are intended to protect the interest of the public, primarily students and parents.
Chair Manzala underscored the important features of the national framework with the shift to outcomes-based education and use of learning outcomes, the conferment of recognition to education and training providers, certificates and licenses by government regulatory bodies, implementation of quality assurance mechanisms, pathways and equivalencies, and to ensure international alignment of qualifications.