PRC 2017 Awards Night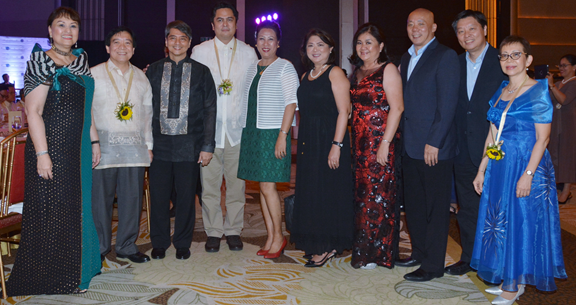 Manila, July 12, 2017 – The Professional Regulation Commission awarded the best and the brightest Filipino professionals in the country last June 23, 2017 at the Manila Hotel.
The Commission holds an annual awarding ceremonies to honor the different professionals who embody the PRC ideals of Professionalism, and integrity, Responsibility, unity and accountability as well as Competence and excellence. The activity started with a photo opportunity of all the awardees with the PRC Chairman Teofilo S. Pilando, Jr., Commissioners Angeline T. Chua Chiaco and Yolanda D. Reyes.
The awarding ceremonies started with a processional of all the awardees where everyone looked dashing and dazzling with their long gowns for women and barong tagalog for men. Gracing the affair was Secretary Martin Andanar from the Presidential Communications Office who was also the guest of honor and delivered the keynote speech.
The awardees went one by one on stage to receive their trophy while their personal and professional initiatives, awards and achievements were being read. The following are the awardees:
From the Business, Education and Social Cluster:

Eugene T. Mateo - Outstanding Certified Public Accountant
Rolando E. Quiambao - Outstanding Customs Broker
Estelito A. Dela Cruz - Outstanding Criminologist
Mila M. Ramos - Outstanding Librarian
Pedro C. Tario - Outstanding Real Estate Practitioner
Lourdes K. Ledesma - Outstanding Psychologist
Lolita D. Pablo - Outstanding Social Worker
Teresita G. Inciong - Outstanding Professional Teacher

From the Engineering Cluster:

Deo B. Deocampo - Outstanding Aeronautical Engineer
Ireneo dlc Agulto - Outstanding Agricultural Engineer
Nathaniel P. Dugos - Outstanding Chemical Engineer
Romeo S. Momo - Outstanding Civil Engineer
Alexander S. Buyco - Outstanding Electrical Engineer
Mario A. Balboa - Outstanding Electronics Engineer
Jose P. Gatus - Outstanding Geodetic Engineer
Archie B. Maglaya - Outstanding Mechanical Engineer
Rainaline R. Tan - Outstanding Metallurgical Engineer
Rolando G. Mangulabnan - Outstanding Sanitary Engineer

Health and Allied Cluster:

Luis D. Uy - Outstanding Dentist
Corazon D. Dela Cruz - Outstanding Midwife
Jose Florencio F. Lapeña, Jr. - Outstanding Physician
Supachai Amphay Basit - Outstanding Medical Technologist
Lilia S. Teves - Outstanding Nutritionist -Dietitian
Christine A. Samson-Enriquez - Outstanding Optometrist
Helen B. Espejo - Reyes - Outstanding Pharmacist
Gayline F. Manalang - Outstanding Physical Therapist
Lilia C. Suaiso - Outstanding Radiologic Technologist
Araceli H. Pascual - Outstanding Respiratory Therapist
Luzviminda T. Simborio - Outstanding Veterinarian

Technology Center:

Abelardo M. Tolentino, Jr. - Outstanding Architect
Corazon B. Cruz - Outstanding Environmental Planner
Gerardo C. Janairo - Outstanding Chemist
Ma. Victoria S. Almario - Outstanding Interior Designer
Benjamin J. Gonzales - Outstanding Fisheries Technologist
Monina T. Uriarte - Outstanding Forester
A special award was also given to the Philippine Medical Association (PMA) as the Outstanding Accredited Professional Organization (APO) for Category A while the United Architects of the Philippines (UAP) garnered the same for Category B.
Dr. Jose Florencio Lapeña, M.D. was the recipient of the most coveted Eric Nubla Excellence Award.
The Panel of Judges was composed of Court of Appeals Justice Jose C. Reyes, Jr. sitting as Chairman and Justice Apolonio D. Bruselas, Jr. and Justice Gabriel T. Robeniol as members.