Oath Taking Ceremonies Of New Professional Electronics Engineers, Electronics Engineers And Electronics Technicians
Posted on
13 December, 2016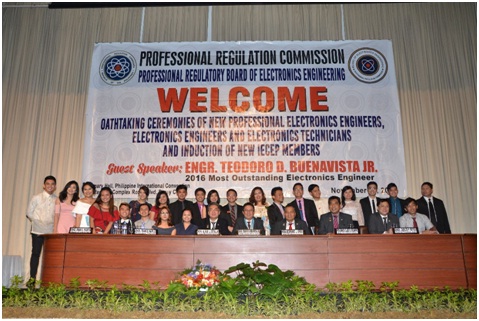 Manila, December 13, 2016 - The Professional Regulatory Board Of Electronics Engineering (PRBEE) conducted the Oath taking ceremonies of new Professional Electronics Engineers, Electronics Engineers and Electronics Technicians last November 19, 2016 at the Plenary Hall of Philippine International Convention Center, Pasay City.
Engr. Teodoro D. Buenavista Jr., the 2016 Outstanding Electronics Engineer, delivereda motivational keynote speech. The Oath of Professionals was administered by Hon. Alnar L. Detalla, Chairman, PRBEE who enjoined the inductees to continue their pursuit of professional advancement by keeping updated with recent developments in the field.
The Pledge of Professionals and Oath of Membership in IECEP were led by Hon. Enrico Claro R. Delmoro, member of the PRBEE and Hon. Jose Carlos P. Reyes, National President of the Institute of Electronics Engineers of the Philippines, respectively.
1,914 and 2,722 examinees passed the October 2016 Licensure Examination for Electronics Engineers and Electronic Technicians respectively, while 72 examinees for Professional Electronics Engineers successfully defended their theses in their respective fields of engineering practice before the Board held in Manila and Bahrain this year.