Oath Taking Ceremonies of New Chemical Engineers and Induction of New PIChE Members
Posted on
27 December, 2016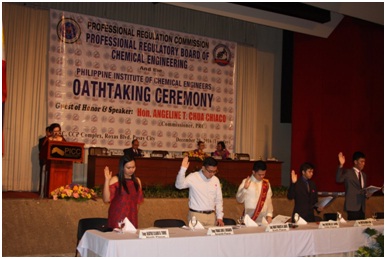 Manila, December 27, 2016 - The Professional Regulatory Board for Chemical Engineering (PRBChE) conducted the oath taking ceremonies of the new Professional Chemical Engineers on December 20 at the Reception Hall, Philippine International Convention Center (PICC), Pasay City.
Commissioner Angeline T. Chua Chiaco, guest of honor and keynote speaker, together with the Professional Regulatory Board for Chemical Engineering, recognized 7 Chemical Engineers from various sectors for their contribution to the growth of the country's manufacturing industry and for serving as role models for the profession.
Hon. Ofelia V. Bulaong, Chairperson of the PRB for Chemical Engineering, challenged the inductees with the commitment to practice the profession with excellence and integrity and to advocate and practice green engineering, not only for the country's economic growth, but also for the protection of our environment.
Engr. Proserfina Matugas-Coro, President of Philippine Institute of Chemical Engineers (PIChE) inducted the new professionals as members of PIChE, the accredited professional organization of Chemical Engineers.
534 out of 918 examinees passed the November 2016 Licensure Examination for Chemical Engineers conducted in Manila and Cebu.