New PRC Commissioner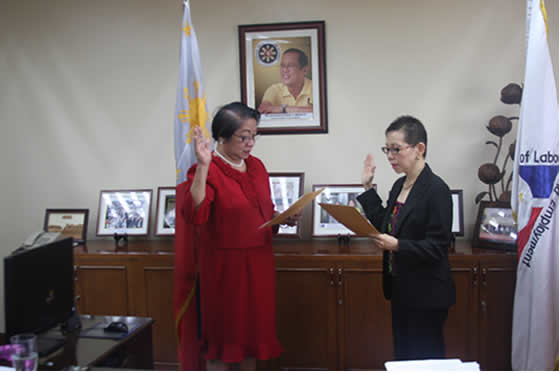 Manila, March 21, 2014 – The Professional Regulation Commission (PRC) today announced the assumption into office of Architect Angeline T. Chua Chiaco, FUAP, APEC Architect, as new PRC Commissioner.
Commissioner Angeline T. Chua Chiaco was sworn into Office by Labor Secretary Rosalinda Dimapilis-Baldoz in a simple oath taking rite held at the Department of Labor and Employment in Intramuros, Manila on March 20, 2014.
Prior to her appointment as PRC Commissioner, Architect Chua Chiaco served as member of the Professional Regulatory Board of Architecture from November 2006 to March 2013. She also served as PRC's representative to the ASEAN Mutual Recognition Arrangement meetings for Architecture.
Commissioner Chua Chiaco's practice as an architect includes institutional, infrastructure, commercial, recreational and residential projects. As an architect and an environmental planner, she specializes in planning and architectural design, environmental planning and subdivision planning.
Architect Chua Chiaco obtained her Bachelor of Architecture from the University of the Philippines and was awarded the Don Tomas Arguelles Memorial Fund in Architecture (Gold Medal for Design). She topped the Architecture Licensure Exam in January 1976.
Architect Chua Chiaco is a Fellow of the United Architects of the Philippines (UAP) and served the organization in various positions from 1984 until 2006 prior to her appointment as member of the Professional Regulatory Board of Architecture.