Dr. Jose Florencio Fabella Lapeña wins the Eric Nubla Excellence Award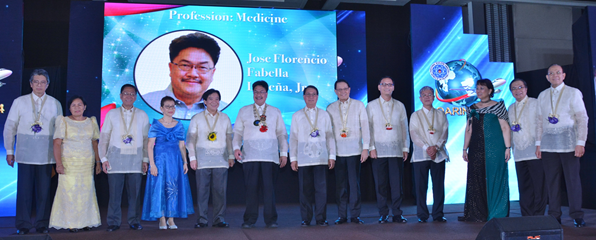 Manila, July 10, 2017 – Dr. Jose Florencio Fabella Lapeña, M.D. wins the prestigious Eric Nubla Excellence Award given during the PRC Awards Night held last June 23, 2017 at the Manila Hotel. Dr. Lapeña bested five other equally deserving candidates to bag the coveted award. The Panel of Judges was composed of justices from the Court of Appeals which was chaired by Justice Jose C. Reyes, Jr. and Justice Apolonio D. Bruselas, Jr. and Justice Gabriel T. Robeniol as members.
Dr. Lapeña is a Full Professor and Attending Otolaryngologist, University Scientist III from the College of Medicine, Philippine General Hospital, UP Manila, Dept. of Otolaryngology. He has distinguished himself in the field of medicine through his exemplary service as a dedicated academician as well as an empowering medical educator and inspiring mentor. He is a widely-published multidisciplinary scientist-researcher and a prolific writer. He is recognized internationally as a multi-awarded editor and reviewer and a compassionate, committed, community-oriented physician and subspecialist surgeon.
His competence, excellence, and commendable track record have earned him various awards and recognitions such as the UP Scientific Productivity Award, One UP Professorial Chair Award, PMA Most Outstanding Physician Award, all three PSO-HNS Outstanding ENT Specialist Awards in Teaching, Research and Community Service, American Academy of Otolaryngology Head and Neck Surgery Star Reviewer Award, Singapore Medical Association SMJ Reviewer Recognition Award, and Publons UK Inaugural Sentinel of Science Award as the World's Top Overall Editorial Contributor to Science and Research.
He shows his relentless dedication as a member of the Philippine Medical Association, Philippine College of Surgeons, Philippine Society of Otolaryngology – Head and Neck Surgery, Philippine Academy for Head and Neck Surgery, Philippine Society of Audiology, Philippine Association of Medical Journal Editors, Asia Pacific Association of Medical Editors, World Association of Medical Editors, and Arbeitsgemeinschaft für Osteosynthesesefragen CranioMaxilloFacial. All these are a testament of his outstanding professional career.
Truly, he embodies the ideals of the Professional Regulation Commission.