2016 PRC Awards Night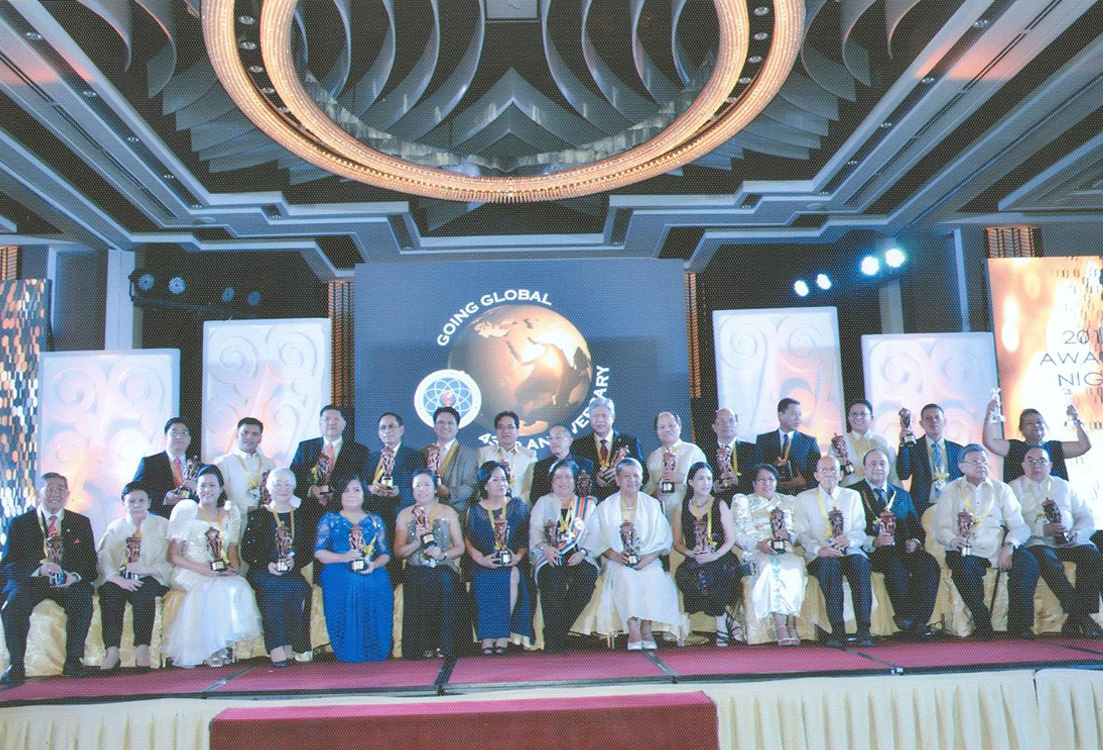 Manila, June 27, 2016 --- On June 22, 2016 the Professional Regulation Commission (PRC) celebrated its annual Awards Night at the Manila Hotel.
Former Senate President Manuel Villar Jr. was the Guest Speaker who urged the PRC to maintain its high standards in regulating the practice of professions to produce globally competitive Filipino professionals that will be on par with global counterparts.
Awards to thirty-six (36) outstanding professionals, three (3) outstanding accredited professional organizations, and an outstanding professional regulatory board were conferred by the PRC including the Nubla Excellence Award.
The PRC Awards Night is the culmination of the week-long celebration of the PRC in commemoration of its 43rd Anniversary and the Professional Regulation Week.
Listed below are the awardees of this year's Awards Night as follows:
CLUSTER A: BUSINESS, EDUCATION & SOCIAL
DR. RUPERTO PACIS SOMERA, Ph.D. -- Outstanding Accountant
MS. ARACELI BAÑEZ REQUINTO -- Outstanding Customs Broker
DR. BARBARA WONG FERNANDEZ, Ph.D. -- Outstanding Guidance Counselor
MR. RODOLFO Y. TARLIT -- Outstanding Librarian
DR. AURORA A. FRANCO, Ed.D. -- Outstanding Professional Teacher
DR. ELIZABETH RESURRECCION VENTURA -- Outstanding Psychologist
MR. BANSAN C. CHOA -- Outstanding Real Estate Service Practitioner
SEC. CORAZON NERVEZ JULIANO-SOLIMAN -- Outstanding Social Worker
CLUSTER B: HEALTH & ALLIED
DR. ROSITA SANTOS CANLAS-NISCE, DDM -- Outstanding Dentist
DR. JULIUS TAMAYAO CAPILI, Ph.D., DPA -- Outstanding Medical Technologist
DR. SANTIAGO A. DEL ROSARIO -- Outstanding Physician
MR. JACINTO D. MANAGBANAG -- Outstanding Midwife
COLONEL ESTELITA T. TULIAO-GALUTIRA NC (RET) -- Outstanding Nurse
MS. MILAGROS ELISA V. FEDERIZO -- Outstanding Nutritionist-Dietitian
DR. MARIO T. FLORES, JR. -- Outstanding Optometrist
DR. YOLANDA RODELAS ROBLES, Ph.D -- Outstanding Pharmacist
DR. RUFO B. AGGARAO -- Outstanding Radiologic Technologist
DR. NOEL S. TIBURCIO, Ph.D. -- Outstanding Respiratory Therapist
DR. RUBINA O. CRESENCIO, DVM -- Outstanding Veterinarian
CLUSTER C: ENGINEERING
ENGR. BERNARDO DAMASO TADEO -- Outstanding Agricultural Engineer
ENGR. FRANCISCO A. ARELLANO -- Outstanding Chemical Engineer
ENGR. SERVANDO C. AROMIN -- Outstanding Civil Engineer
ENGR. DOMINICO AMAD AMORA -- Outstanding Electrical Engineer
ENGR. TEODORO DOMINGUEZ BUENAVISTA, JR. -- Outstanding Electronics Engineer
ENGR. EDUARDO B. SARMIENTO -- Outstanding Geodetic Engineer
ENGR. VICENTE BOOC VOSOTROS -- Outstanding Mechanical Engineer
ENGR. FEDERICO AQUINO MONSADA -- Outstanding Metallurgical Engineer
ENGR. REX LAQUIHON LABADIA -- Outstanding Sanitary Engineer
CLUSTER D: TECHNOLOGY
AR. JOSE THOMAS DESALES BELDIA -- Outstanding Architect
DR. MYRNA SILLERO MAHINAY, Ph.D. -- Outstanding Chemist
DR. CELESTINO FERNANDEZ DESAMITO, JR., EnP -- Outstanding Environmental Planner
USEC. JONAS ROQUE LEONES -- Outstanding Forester
DR. ROGEL ALONSO SANTOS, Ph.D. -- Outstanding Geologist
TINA PERIQUET -- Outstanding Interior Designer
MR. HONORIO TAGUENCA PALARCA -- Outstanding Landscape Architect
DR. ERMAN G. GANGE, Ph.D. -- Outstanding Master Plumber
"OUTSTANDING ACCREDITED PROFESSIONAL ORGANIZATION (APO)" AWARD
Category A --
Philippine Nurses Association (PNA)
Category B --
Philippine Institute of Chemical Engineers (PIChE)
Category C --
Geodetic Engineers of the Philippines (GEP)
"NUBLA'S EXCELLENCE" AWARD --
SEC. CORAZON NERVEZ JULIANO-SOLIMAN
OUTSTANDING PROFESSIONAL REGULATORY BOARD (PRB) --
NURSING