Terms of Reference for the Selection of Payment Channels
The selection of payment channels is being undertaken to provide the transacting public more options in paying PRC fees.
Read full text here.
Posted on
27 February, 2020
The Professional Regulation Commission (PRC) informs the public of the updated contact information of its respective offices, divisions, and units.
To ensure that all queries and concerns on related transactions will be appropriately acted upon, the public is advised to direct the same to the concerned PRC office/division/unit through the following email addresses: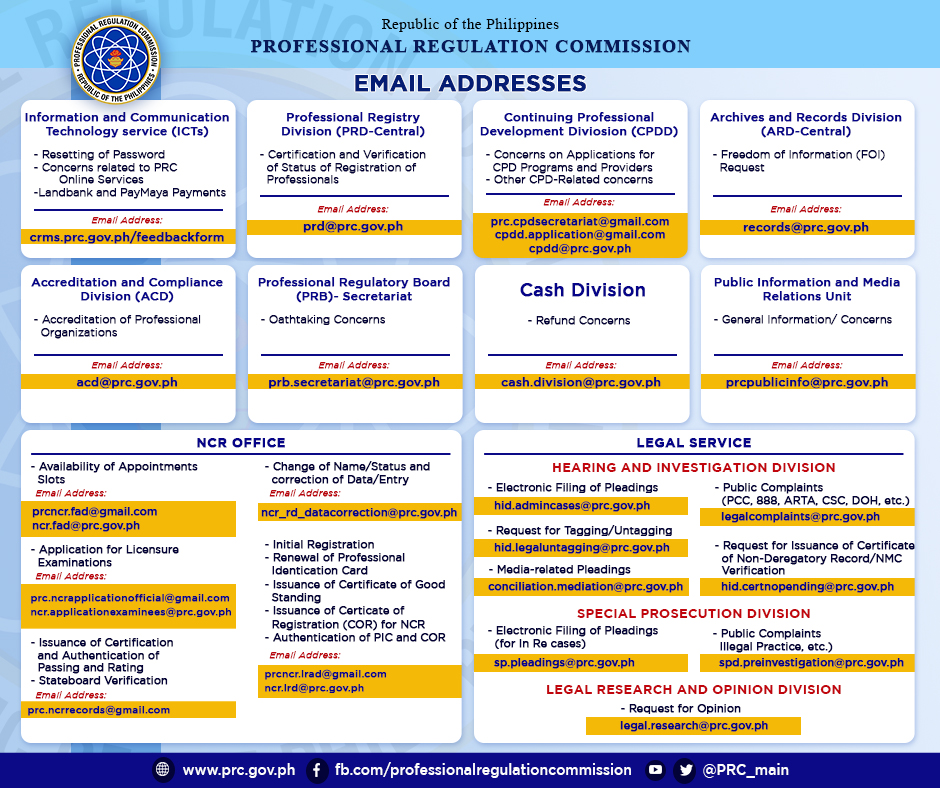 Posted on
02 August, 2019
ADVISORY: Foreign Professionals Who Intend to Undergo Residency/Fellowship Training Program
Starting 30 July 2019, the Professional Regulation Commission (PRC) and the Professional Regulatory Board of Medicine will accept applications for the Qualifying Assessment/Examination for Foreign Medical Professionals (FMP) who intend to undergo residency training programs in the Philippines.
Invitation to Service Providers to Present a Proposal as A Payment Channel
LETTER OF INVITATION
Request for Proposal (RFP)
Dear Sir/Madam,
PRC Interactive Map
To view larger and detailed map, click here.