Postponement of the September 2021 Licensure Examination for Professional Teachers in National Capital Region, Butuan, Lucena, and Romblon
Posted on
19 September, 2021
As recommended by the Department of Health and in accordance with the Inter-Agency Task Force of Emerging Infectious Disease (IATF-EID) rules and protocols on COVID-19, and pursuant to the directives of the concerned Local Government Units, the Professional Regulation Commission (PRC) informs the public that the September 2021 Licensure Examination for Professional Teachers (LEPT) in the following testing locations is POSTPONED:
National Capital Region (NCR)
Lucena
Romblon
Butuan
Request for transfer of examination testing center shall no longer be entertained but affected examinees will be allowed to take their LEPT on the succeeding examination schedule.
The PRC requests the public's utmost understanding and cooperation as it complies with the guidelines set forth by the IATF-EID.
For queries and concerns, please email Licensure Division at licensure.division@prc.gov.ph  and licensure.office@prc.gov.ph.
For updates on the new schedule of LEPT, you may check the PRC website at www.prc.gov.ph  and follow PRC official social media accounts at https://www.facebook.com/professionalregulationcommission and https://twitter.com/PRC_main.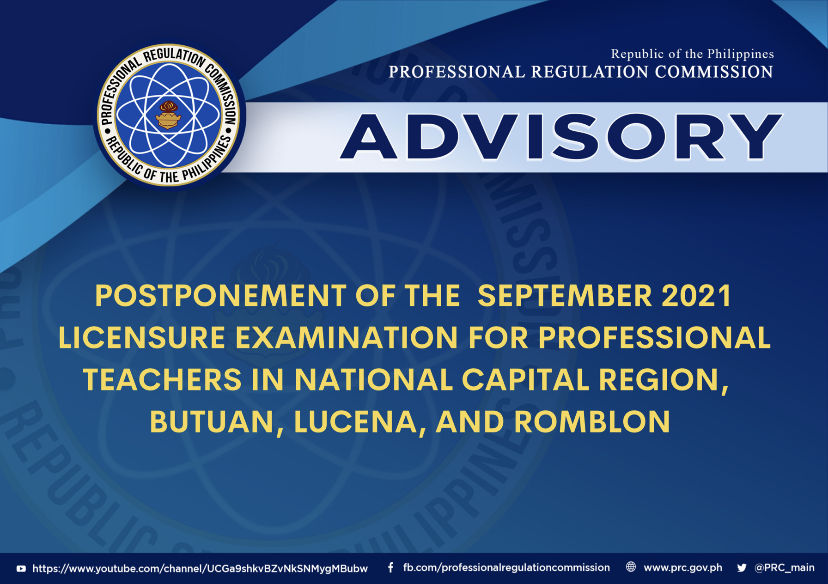 Postponing the September 2021 Licensure Examination for Professional Teachers in Butuan, Lucena and Romblon Click here.